Artist
ByStarlight
With wobbly, cut-time pre choruses and synths shot from lasers found in the depths of outer space, the west-coast...
Full Bio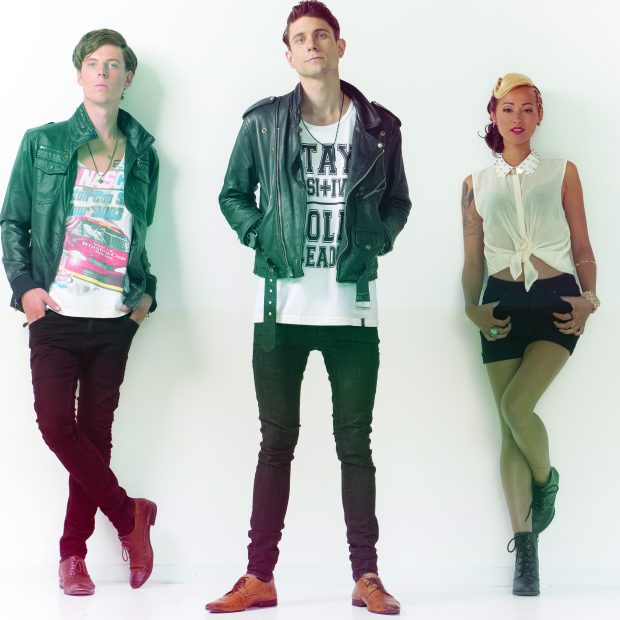 With wobbly, cut-time pre choruses and synths shot from lasers found in the depths of outer space, the west-coast pop act has landed and announced their intentions to explode onto the planet. Consisting of Nigel John Crowe, Rachel Ashmore, and Jeff Zipp (whose name alone invokes the age of Bowie-era guitar bravado), this trio has it in them to completely demolish the airwaves. ByStarlight's first single, "Here's To The Times" (produced by Dave "Rave" Ogilvie and Marianas Trench frontman, Josh Ramsay) is a piece of modern pop that achingly recalls teenage laments of love that could have been.  The song's sliced up vocals and swelling, side-chained synth line help catapult a perfectly written song into a place where this moment in time will be remembered forever. Truly, ByStarlight are made for those listeners that live in the present but can't help but learn from stories past.
The Vancouver-based power-trio were basically born to play together. After years of struggling to find like-minded people, the final lineup came to be by harmonious kismet, when founding member Nigel responded to a Facebook post of Rachel's, looking for a guitar player for a one-off acoustic show. Nigel, keen to work with Rachel, chimed in immediately. "I can also sing harmonies"… and it was perfect. Their voices just matched. "The harmonies were already perfectly written for Rachel because my range is so close to hers." coos the frontman. As for the mysterious guitar player with the glam name, Jeff Zipp, disenfranchised with his previous efforts, casually pitched to Nigel that he'd play guitar for him one day if he ever needed somebody. That day came and the triad was formed.  A musical powerhouse was now ready to satiate the appetite of pop fans. With help from longtime friend and "mentor" Josh Ramsay (who also appears in the band's first video) and the production chops of Canadian music legend, Dave "Rave" Ogilvie, ByStarlight have become an out of control freight train of fun, charming, super-pop.
"As an artist you're never going to be satisfied playing one genre the rest of your life." Nigel says with reflection, "With pop you can move music forward, whereas most genres have a certain point at where they stop." A moment in time; that's what pop has always been. No matter the form, nor lyrical content, nor dress code, pop music has always been a flag plunged into the earth; not necessarily planted by the artist, but by the fans and their collective taste for them to reference forever. Pop has taken many forms over the years but it will always speak to the people and be a representation of them. ByStarlight are shameless lovers and constructors of pop. Well, Jeff might have a little shame left. As he says with a slight blush, "I still tell my dad I'm playing the blues."
Releases
Albums
04 June 2013
Antics
ByStarlight
Upcoming Tour Dates
Sorry, we have no posted upcoming tour dates.