Artist
Carly Rae Jepsen
After Carly Rae Jepsen released her critically acclaimed album E·MO·TION in 2015, it became "a modern touchstone for a...
Full Bio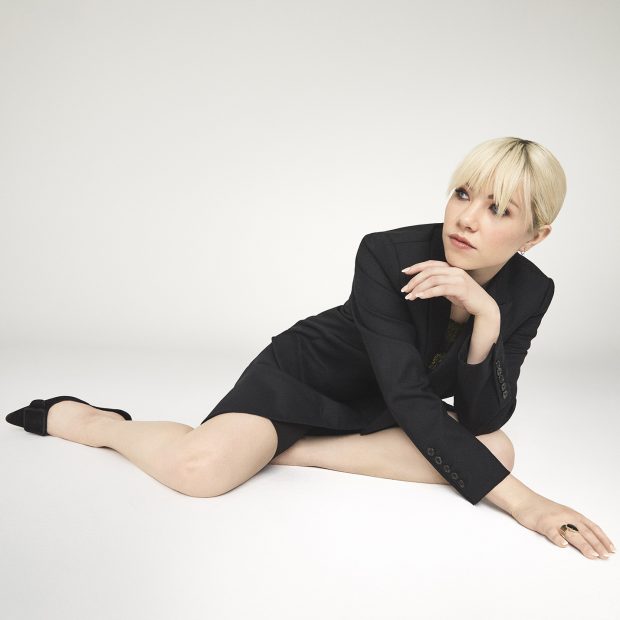 After Carly Rae Jepsen released her critically acclaimed album E·MO·TION in 2015, it became "a modern touchstone for a new crop of pop-leaning artists and legacy acts," as NPR noted, adding that "the blast radius of E•MO•TION is expansive." The album also inspired an abundance of memes — extending the cultural cachet that Jepsen earned from the ubiquity of her Grammy-nominated blockbuster hit "Call Me Maybe" (from her U.S debut album Kiss), which not only climbed to No. 1 on the iTunes Singles charts in over 47 countries, sold over 20 million singles worldwide, and was certified Diamond in the U.S., but was referenced by everyone from former secretary-of-state Colin Powell to Cookie Monster.
Jepsen's latest album, Dedicated, retains the joyful, hook-filled feeling of its predecessor. But where E*MO*TION, which featured the platinum single "I Really Like You," was an '80s-influenced synth-pop classic that Rolling Stone called "a pop masterclass". Dedicated has a more '70s-inspired feel at times (though the album defies categorization as a whole). At one point, Jepsen was sure she was making a disco opus. "The title was going to be 'Disco Sweat,'" she says with a laugh. "I really bought into it." But Jepsen had a change of heart thanks to her travels over the past two years, which included writing trips to the Swedish countryside ("It was spring and there were fields of flowers, homemade breads, and kittens running everywhere") and a beach in Nicaragua, where she surfed and stayed in a cabana-like casita. Then there was an Eat Pray Love-esque solo vacation in Italy. "I had so many songs," she says. "I needed some space to walk around, reflect, eat pasta, and get to know myself a bit." Working with a crew of trusted songwriters and producers, among them John Hill, Jack Antonoff, Captain Cuts, Kyle Shearer, James Flannigan, Patrik Berger, and her longtime collaborator Tavish Crowe, Jepsen indulged in more sonic experimentation than she has in the past. "Whatever my mood is in life, it very much affects what I'm writing".
In November 2018, Jepsen released "Party for One," an empowering ode to the necessity of loving yourself before anyone else can love you — a message she describes as "huge to me." The song "Julien," which was inspired by a guy Jepsen met with that name, considers the idea of timeless love. "The first thing out of my mouth when I met this guy was, 'You have the most beautiful name,'" she recalls. "Julien" paved the way for Dedicated, which finds her reflecting on the idea of what it means to be that committed to someone. "That's where the title came from," she says. "I thought about the word 'dedicated' and how it's about being there for someone through thick and thin. It's something I thought about a lot while making this album, so it felt like a fitting title."
Conflicting feelings about her romantic relationships inspired the songs "Right Words Wrong Time" and "The Sound." She also acknowledges how love can feel like an addiction on "No Drug Like Me," which is about a relationship that feels impossible but you're willing to be terrified and go for it anyway. "Too Much." "I think all people everywhere have, at some point or another, experienced a similar worry that 'too much' is a bad thing, when it's in fact a great thing," she says. "This song was my discovery of that. The insecurities of that even."
"There aren't a lot of hopeless romantics left out there," Jepsen says. "But I believe in it. Romantic love is always going to come with some sort of euphoric high to me, so I keep singing about it. Even though a million songs have been written about it, I'll still contribute my couple thousand, so by the time I'm gone, you'll know that I was a believer, too."
Upcoming Tour Dates
Sorry, we have no posted upcoming tour dates. Check artists website for more information.