Artist
Carly Rae Jepsen
In her exuberant pop anthems, Carly Rae Jepsen seeks out the thrilling new emotions that surface in love, and...
Full Bio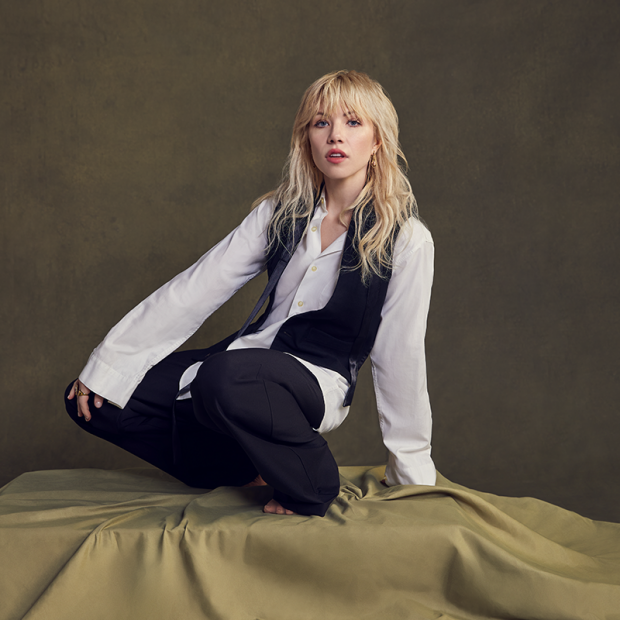 In her exuberant pop anthems, Carly Rae Jepsen seeks out the thrilling new emotions that surface in love, and amplifies them into musical adrenaline rushes. By distilling pure feeling into soaring hooks and full-hearted declarations, the Canadian singer/songwriter, who broke out with her 2012 global hit "Call Me Maybe," has been recognized as a modern master of pop songwriting by critics and fans alike. Now she emerges from a period of isolation with new album The Loneliest Time, which sees her pushing her craft in more introspective and playful directions. "I've created a world of escapism in music," Jepsen says. "But what I wanted to offer with this album is permission to actually connect to whatever it is you need to feel."
The Loneliest Time sees Jepsen reflecting a range of moods through disco, folky ballads, and heart-pumping funk-pop. She captures deep nostalgia on "Western Wind," a pop track produced by longtime collaborator Rostam, which she says is about "mourning the losses of old things and people you used to have, but remembering that those memories are still in your body and part of your experience." On the wistful "Far Away," produced by Bullion (who also helmed the glowing electro-pop of "Bends"), she veers into an off-kilter '80s sound for a song that captures "the humility of realizing that you're the one who fucked up in a relationship." Without compromising her infectious dance sensibilities, she emerges a more astute and compassionate songwriter, marking a progression from the lovesick anthems on 2019's Dedicated and the buoyant '80s-inspired synth-pop on E·MO·TION, the 2014 LP that launched her into cult pop star status.
Like most of the world, Jepsen had to grapple with loss and isolation during the pandemic. Though she was experiencing real grief for the first time and touring was on hold, she found herself intrigued by solitude rather than being paralyzed by it. "Loneliness can be a place of real growth and change," she says, adding that it led her to prioritize her own needs and act more boldly—whether that was wanting to confess feelings to an ex-lover or trying dating apps for the first time. That newfound commitment to vulnerability, which she believes will bring her closer to true love, is apparent when she sings, "I wanna be open / I wanna be honest with you" over glittering synths on the opener, "Surrender My Heart."
Jepsen is also more lighthearted—and ready to embrace camp—than ever before, as on the sparkling disco title track, which sees her playing out a fantastical duet with her musical hero Rufus Wainwright. "Just like Shakespeare wrote a tragedy / 'Bout our story, never finished it," she sings over dramatic string flourishes. There's also the hilarious "Beach House," on which she satirizes the ridiculous things men throw out on dating apps, escalating to "I've got a lake house in Canada / And I'm probably gonna harvest your organs."
"I am not one thing, and neither is this album," Jepsen says. "It's rebelling against the idea that, even as a pop musician, you have to narrow it down or condense it for people." After all, she's never had just one vision of pop throughout the years, having collaborated with major acts like Charli XCX and Justin Bieber as well as beloved indie auteurs Dev Hynes and Danny L Harle. She's also never been just one type of performer, either: Before her breakout 2012 sophomore album, Kiss, she launched with the 2008 folk-pop Tug of War, and made her Broadway debut in 2014 as the lead in Cinderella.
As with her previous projects, Jepsen came up with more than a hundred songs that were eventually whittled down to the 13 tracks on The Loneliest Time. "It's like catching fish, where you know when you caught one," she says of her songwriting process. "Then there's others where you think you caught something, but it was actually someone's old shoe." Her creativity is propelled by working with others until she realizes that certain sounds are "doing something for me," leading to new wormholes of exploration. While she recruited UK indie producer Bullion for the first time, she called back Tavish Crowe—a collaborator since "Call Me Maybe"—alongside E·MO·TION era co-writers and producers Kyle Shearer and Rostam, and Dedicated songwriters Nate Cyphert, Jordan Palmer, and Alex Hope.
Songwriting is also Jepsen's way of exploring her fascination with relationships. She grew up in Mission, British Columbia, with divorced parents who had both remarried by the time she was 5. Observing how different those partnerships were, she carried a curiosity about romantic dynamics into her adult life, where she jots down any reflection that has lyrical potential. Her family's tendency to turn any special occasion into a living-room dance party also still has a deep impact on her songs. "The feeling of being comfortable enough to get out and dance is similar to being brave enough to make the first move with a guy," she says. "It's an adrenaline rush, and you let yourself go. I want to capture that feeling my family taught me."
Jepsen's childhood connection to nature might have influenced the singer to subconsciously pen lyrics about the moon, which is a consistent theme throughout the record—from "I like the moon and magic" on "Joshua Tree" to "Every time the red moon rises" on "Go Find Yourself or Whatever." Jepsen muses, "The moon can be for loneliness. It can also be romantic. It follows you wherever you go and matches your mood." She hopes that the presence of the moon, as well as her lyrical candor, will remind listeners that they are never truly alone. "There's a communal feeling in knowing that so many people are feeling the same way that you do," she says. "There's a connection in knowing that other people also feel lonely."