Artist
Gwyn Love
Growing up in small-town Oklahoma, Gwyn Love knew she was destined for something bigger. Now, as the first-ever American...
Full Bio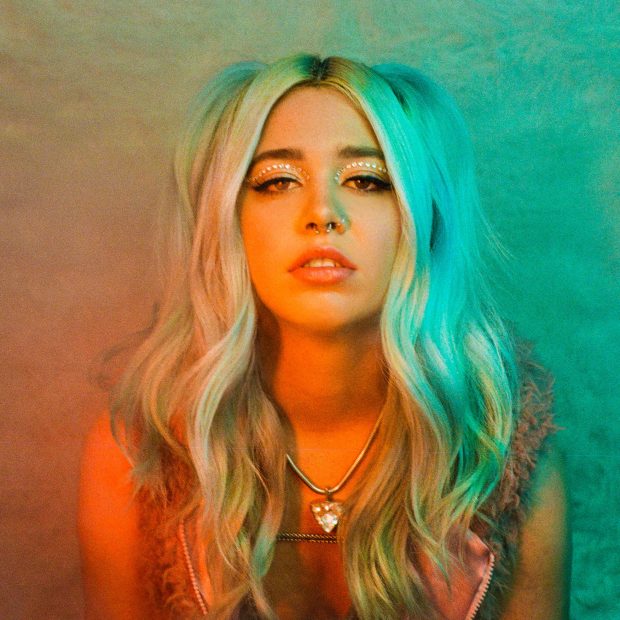 Growing up in small-town Oklahoma, Gwyn Love knew she was destined for something bigger.
Now, as the first-ever American artist signed to Vancouver-based 604 Records — she's ready to take on the world.
Born into a conservative family with eight siblings, Gwyn was introduced to music at a young age; picking up the cello at just 5-years-old and writing her first song at 11.
While still energized by the world around her, it's her sound that's evolved — blending what the artist describes as a punk mentality with an electronic-pop vibe.
Though, when it comes to inspiration not a lot has changed.
"Early on, all we would listen to was gospel and country music. So, at first that's what influenced me a lot," Gwyn explains, adding it wasn't until she started diving into the world of pop-punk and the rave scene that things that her musical repertoire really started to grow. "I kind of just like to mesh all different styles together. I have a bluntness with my lyrics that you could find in punk music, but once I heard electronic dance music, that's when my sound really clicked for me. I really understood how I wanted my music to sound and feel."
Never one to follow the rules, the aspiring artist longed to leave the quiet streets behind, using her music as a catalyst of transformation.
And it was one email that made all the difference.
As a huge fan of Canadian pop-rockers Marianas Trench, Gwyn reached out to 604 Records President Jonathan Simkin, asking about an interview for a school project. After mentioning she was a musician herself, he asked her to send along a demo.
A few months later, the would-be singer/songwriter had her first recording contract.
Drawing mainly from her own life experience, Gwyn maintains she's hardly ever at a loss for words when it comes to songwriting. Whether it's picking a line out of a conversation, embracing both good and bad memories, or jotting down a fresh melody — musical motivation and vision are always priority one.
Her first single Never Have to See You Again speaks to just that.
It's a song the artist says she believes becomes more powerful each and every time she hears it — an anthem that constantly re-ignites the happiest of moments when everything in her life really started to come together.
"It really helps me let go of all the pain I had gone through growing up in a small town where no one seemed to understand me," she said. "I was always dreaming so big and everyone thought I was crazy. The song is really about never having to see these people that made me feel insignificant and not worthy of love ever again."
It's that kind of honest lyricism that is sure to set Gwyn apart from the pack, as a creative deeply invested in every aspect of her sound, and what she puts out to the musical world. It's her songwriting, she maintains, that makes her music special and different.
Her ultimate goal is to have audiences not only vibe with her message, but to relate to it as well.
"I have this vision of me singing in front of a tonne of people and like everyone in the front row singing my lyrics back to me and having a great time," she said. "I can feel their energy and they can feel mine. That's what I strive for. That's when I'll feel like I've really succeeded."
Upcoming Tour Dates
Sorry, we have no posted upcoming tour dates.