Artist
MIKEH
With his debut solo EP, Golden Hour: First Things First (604 Records), Marianas Trench bassist, Mike Ayley (under the...
Full Bio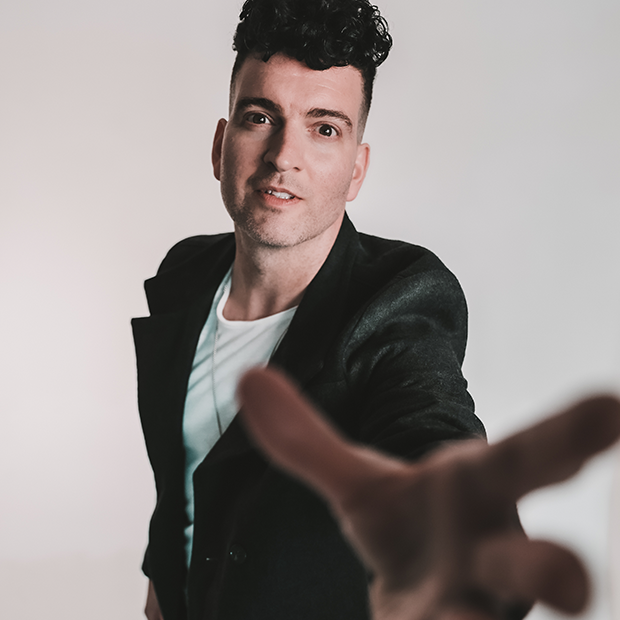 With his debut solo EP, Golden Hour: First Things First (604 Records), Marianas Trench bassist, Mike Ayley (under the moniker, MIKEH), presents a compact set of songs that are highly personal but leave plenty of room for listeners to see their own lives and the kind of uncertainties so many of us have experienced over the past two years and change reflected in them.
For Ayley, putting himself out there as a solo artist after years with Marianas Trench and the inevitability of comparisons between his solo work and the band's, took some time to wrap his head around. "I was going crazy not making music because, like everyone else, we were on hiatus during the pandemic. But when the songs started coming, it was like, I've got to do this for myself, and it wasn't so daunting."
Aptly titled, the five-song EP is inspired by emotional gray areas Ayley often found himself pondering during his favourite times of day during the time his musical career was on hold. "There are two golden hours, sunrise and sunset. The morning is all about hope and possibility, potential, and rebirth. And sunset, to me, it's a time of reconciliation, thinking about what you haven't accomplished but realizing new things are growing, blooming, and you're excited for the next day."
With its focus on Ayley's world – and in particular on his hopes and concerns for his family – Golden Hour: First Things First offers a unique and insightful look at balancing love, life, and work at a time when recent events have thrown a wrench into the works. "These songs are about feelings that can't be explained in one or two words. Real life involves a lot of mixed emotions. It's a mixed bag – happiness, sadness, potential, lost potential, failure."
On the EP, it's clear how valuable a training ground the band has been for Ayley and just how highly developed Ayley's chops as a player and songwriter are. Although he drew on his past experience in the studio and on stage during the writing/recording process, on Golden Hour: First Things First, Ayley establishes himself as a singularly talented musical force in his own right.
Characterized by deep harmonies and no-nonsense arrangements, tracks like 'Up, Up, Up!' and lead single, 'Walking Hill' feature the depth, drama, and lushness Marianas made its bones with, but with a vibe and a sound that are uniquely Ayley's own.
On record, he and producer Pedro Dzelme tread the line between full-on rock and pop effortlessly, capturing the kind of beginnings, endings, and uncertainties that lay between them when anything can happen in a manner that's relentlessly hooky, richly textured, and leans heavily on Ayley's soaring, often chill-inducing vocals.
He credits the creative world the band exists in, lead singer Josh Ramsay's approach to vocals as instruments in their own right, and Marianas' ability to up their game and push the envelope with each successive record as a prime inspiration; things that opened his mind to endless musical possibilities. "I look at everything I've done before as school, and it would be odd if some of that weren't there because I've spent so much time living in that setting, with that music. In some ways, the band is my biggest influence."
While that informed Golden Hour: First Things First, the result is incredibly hard to pigeonhole sonically and lyrically.
Nowhere is that more evident than on 'Breathe Out' – a relentlessly upbeat rocker Ayley wrote for his son as guidance to help him cope with, "That first, worst day of his life. The first time the world knocks you so hard, you wonder what the point of life is." It's also the song that kick-started the writing/recording process and made him realize he had something he needed to say. And although Ayley covers some weighty issues and complex emotional territory along the way – including depression and the fear of losing loved ones – he does so in a way that's optimistic and uplifting rather than regretful or angst-ridden.
"During the pandemic, I started having a hard time, wondering, why can I not get happy? That confused me because I'm a happy, optimistic person. But life's going to be hard at times – you get through. So, in all these songs, there's hope. That's what the song 'Kaleidoscope' is about, meeting my wife, Emily, but thinking I'd never see her again, that it's never going to work because we lived thousands of miles apart. But here I am, literally in the best place I've ever been. That's reaffirmed for me that the decisions I've made personally and professionally – whether they felt right or wrong at the time – still led me to the place I need to be."
Ultimately, that's the beauty of and the driving force behind Golden Hour: First Things First – a celebration of the kind of daily victories we too often take for granted that's compellingly honest and immediately relatable, musically and lyrically.