Artist
Josh Ramsay
During the pandemic, you could say that Josh Ramsay really let himself go. Not in terms of packing on...
Full Bio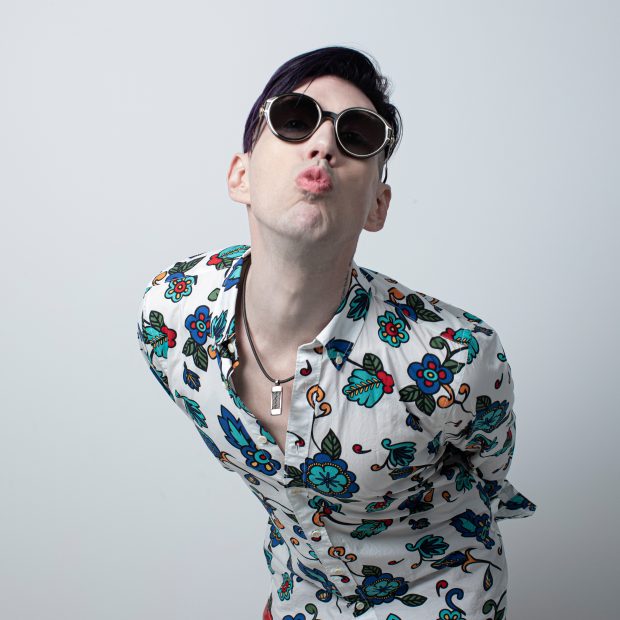 During the pandemic, you could say that Josh Ramsay really let himself go. Not in terms of packing on a few extra pounds, mind you. Rather, by indulging himself by writing, producing, and playing all the instruments on his debut solo record, The Josh Ramsay Show.
Aptly titled, The Josh Ramsay Show is a sweeping exploration of musical styles featuring collaborations with a wide range of Canadian singers from across the musical spectrum that rings in at 18 tracks in all. This album is a love letter to music as a whole, never sticking to the same genre twice.
"I'd always planned to do this at some point, and this seemed like the right opportunity," Ramsay explains. "If the pandemic hadn't happened, I would have been busy with Marianas Trench. But I needed something to do in quarantine, and with no deadlines I could just tinker away at it."
Rather than create a record remotely similar to his work with the band, Ramsay decided early on that he'd step out dramatically on The Josh Ramsay Show. Hence the title, he explains: "My goal was to try and do as many genres as possible, so it feels kind of like a variety show. I see it as my 'calling card' – not just as a songwriter, but as a producer and arranger."
Nowhere is that more evident than on 'Blame It On The Beat', Ramsay's updated take on a big band swing tune; complete with a full horn section, standup bass and a rollicking 'good times are here again' feel that puts the boots to the idea Ramsay had any intention of making the kind of stripped-down, introspective offering that often characterizes a lead singer's solo project.
Co-mixed with longtime Marianas Trench collaborator, Dave 'Rave' Ogilvie, this record is a far cry from that. "When I started sending Rave songs, he said, 'Don't you know that when lead singers do solo records, they're quiet, acoustic stuff? Did you not get the memo?' Ramsay says, laughing. "But that's exactly what I wasn't going to do."
Ramsay makes that very loud and crystal clear from the album's opener, 'Lady Mine' (Feat. Chad Kroeger), an all-out rocker that boasts blazing guitars and a full horn section and somehow channels elements of 80s hard rock and 70's era southern-fried rock, while still sounding cutting edge current.
'Lady Mine' also serves to tell listeners that they're in for a hell of a wild ride.
Along the way – both on songs featuring other artists and those he takes on alone – Ramsay covers an epic amount of ground, stylistically; everything from modern country (on 'Best Of Me' Feat. Dallas Smith), to tracks that defy description like his standout duet with Serena Ryder, 'Beat The Devil', with its eminently satisfying nod to Peter Gabriel's 'Sledgehammer', through EDM and full-on orchestral instrumentals.
Granted, there are plenty of standouts on The Josh Ramsay Show, among them, 'Can't Give It Up', featuring breakout Canadian pop star, Tyler Shaw, 'Perfect Mistake' with pop songstress Ria Mae, and the album's chill-inducing, symphonic closer, 'Miles and Miles'. Written for his late father and performed with Ramsay's sister, Sara, an accomplished musician in her own right, 'Miles and Miles' is the kind of track that will give you goosebumps on your goosebumps. It is one of three highly personal offerings on the record directly inspired by major events that took place in Ramsay's life during 2020.
"Right as the pandemic started, I got married, so I wrote 'Like You Do' for my wife, Amanda. She loves Otis Redding, so it's an updated take on an Otis Redding-style, Motown ballad about that moment where you first propose to someone and it's still just this little secret between the two of you."
During that time, however, Ramsay also lost both of his parents. But while he speaks to those losses candidly on 'Miles and Miles' and 'Spellbound', they're anything but somber or maudlin songs. Rather, he celebrates their lives and the musical gifts and lessons they passed on to their children in equal measure.
"I learned so much about orchestration and arrangement from my dad. But I didn't want to write some sad lament about loss – that's not his style at all. What I think he'd have wanted and what I thought was the best way to remember him was to do a big musical flex and show off everything he taught me. So, I wrote him a symphony, and the only fitting person to sing on that with me was my sister."
Similarly, 'Spellbound', written for his mother, Corlynn, pays tribute to her own rich musical experiences. "My mom was quite a magical lady, and quite goofy," he adds, laughing. "She was in Leonard Cohen's band and came up in The Beatles/post-Beatles landscape. I wanted to do something like The Beatles' George Martin stuff, like 'Eleonor Rigby' or 'All You Need Is Love' – simple pop songs with symphonic instruments but make them a bit magical and a bit goofy."
As with every project he takes on, Ramsay also wanted to push his personal limitations and challenge himself as a songwriter, singer, player, and producer. That's always been a defining characteristic of his output as Marianas Trench's frontman and songwriter, and in his role as producer and songwriter for artists like Nickelback, 5 Seconds of Summer, and Carly Rae Jepsen, whose worldwide hit, 'Call Me Maybe' garnered Ramsay a Grammy nomination in 2013.
The biggest challenge, however, was to get out of his comfort zone as a songwriter/producer to ensure the record sounded nothing like Marianas Trench; one he met by relying on the expertise of Ogilvie and mix assistant, Zack Blackstone, as well as the unvarnished opinions of friends and fellow songwriters/producers, Dave Genn (54-40), Craig Northey (The Odds), Steve Marshall (formerly of Marianas Trench), and Marianas Trench guitarist, Matt Webb. "The thing all those people brought to this was a fresh perspective, which I couldn't possibly have because I was so inside it."
In the end, Ramsay says, "I got the satisfaction of completing my goal, but it was a weird process to make a record without a lot of people to bounce ideas off of and that push and pull in the studio."
As for what he hopes others will take from The Josh Ramsay Show: "I really wanted to write something upbeat, fun and irreverent, so I just hope it's an uplifting listen for people. I don't think anyone needs to hear a sad-sack album right now." Least of all Josh Ramsay himself: "Losing your parents is a tough thing – something everyone will go through – but I'm in a positive place. So, even songs about that, I wanted them to be uplifting. I didn't want it to feel like grief. I wanted it to feel like love."